I was fortunate enough to catch the
D&DXP live chat
hosted on the WotC site earlier today as well as follow the
live tweets
of the D&D Experience chat with Monte Cook, Mike Mearls, and some dude named Jeremy Crawford. It was... interesting.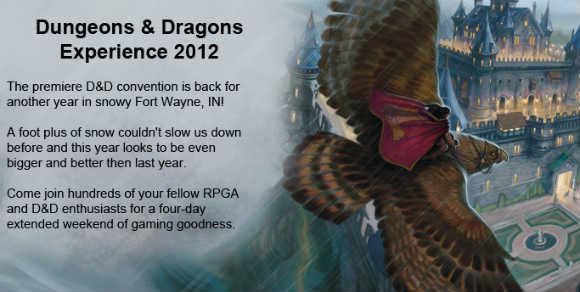 I'm trying hard to keep an open mind and not immediately jump into grognardia, but it's hard. I love me some 4e, so knowing that it's time with official support is going to end kills me a little. I will, however put off total judgement until after the open play-test documents for 5e are released sometime this Spring.
Some things that were discussed:
Modularity was key! Between world-building and even between sessions this was stressed. I'm not sure how I feel about a potential lack of consistency between sessions, but we will see.
Monsters that remain effective throughout a campaign. Now, this part I like initially. I have always hated that Kobolds or Orcs are just worthless after a certain level and this is true for most editions of D&D. Now, on the other hand, this feels very Elder Scrolls, which isn't necessarily a bad thing. That said, one of the key complaints of Oblivion and even Skyrim was that the monsters leveled up with you and it never truly felt dangerous. I wonder how this will work out...
Mass combat was mentioned, cool!
Varying complexity at the table was also mentioned. You can have a barebones Fighter that is still effective at the same table with an optimized Fighter. This doesn't feel like a huge stretch for me, as I've played at tables that mix the simplified yet iconic Essentials with the typical AEDU classes of 4e. That said, I'm curious what this means in terms of optimization.
Lots more was discussed, some I liked, some I didn't. Again, I'm trying to keep an open mind as D&D is a great game that's a lot of fun. What better excuse than to sit around with friends and drink some beer and have a blast together?
Now, 5E stuff out of the way, I had two of my last D&D sessions for the foreseeable future this week.
On Sunday I got together with my D&D Noobs group and ran their characters through an extended one-shot to give them some closure as well as a huge cliff-hanger for our next session in July. It was a blast! We started around 2pm and wen't til about 11pm and did aerial combat, mounted combat, a "protect the citizenry" scenario and more. It was a lot of fun to DM and I got positive responses from them despite trying out some new things. Mounted combat, we found out, is fun, but a little convoluted. Very quickly the players and even enemies dismounted and took it to the ground.
This happened and it rocked!

Yesterday I got together with my Every-Other-Wednesday group and almost died. Let that sink in. We went into the session down on resources and in the first combat the entire party used up most of their resources. Queue the next encounter with nothing but a short rest and we were hurting. Three PCs dropped that encounter and it was great. It was an on the edge of your seat nail-biter the entire time and it was a lot of fun albeit stressful. My character is "the great hope" and the DM had him whisked away by the spirits for further training while I'm gone. I look forward to my return to that group in July as every session is an absolute blast.
I play a Longtooth Shifter Resourceful Warlord
That's all for now. I'm sure I'll have more comments on the D&D Next shenanigans when they are released. But seriously, what the heck is with this "iteration" nonsense, it just sounds like a bad marketing decision to me. Call it 5th edition and own it! Instead, WotC is making it appear as if they are ashamed of releasing a new edition. Despite my love of 4e, this just feels weak! OWN IT!
Until next time,